Exceptional quality you can see, feel, and smell
Why Essential Oils
The Helse Difference
From sustainably sourced natural wood tops, to professionally formulated blends by the best mixologists in the world, our products are carefully crafted inside and out.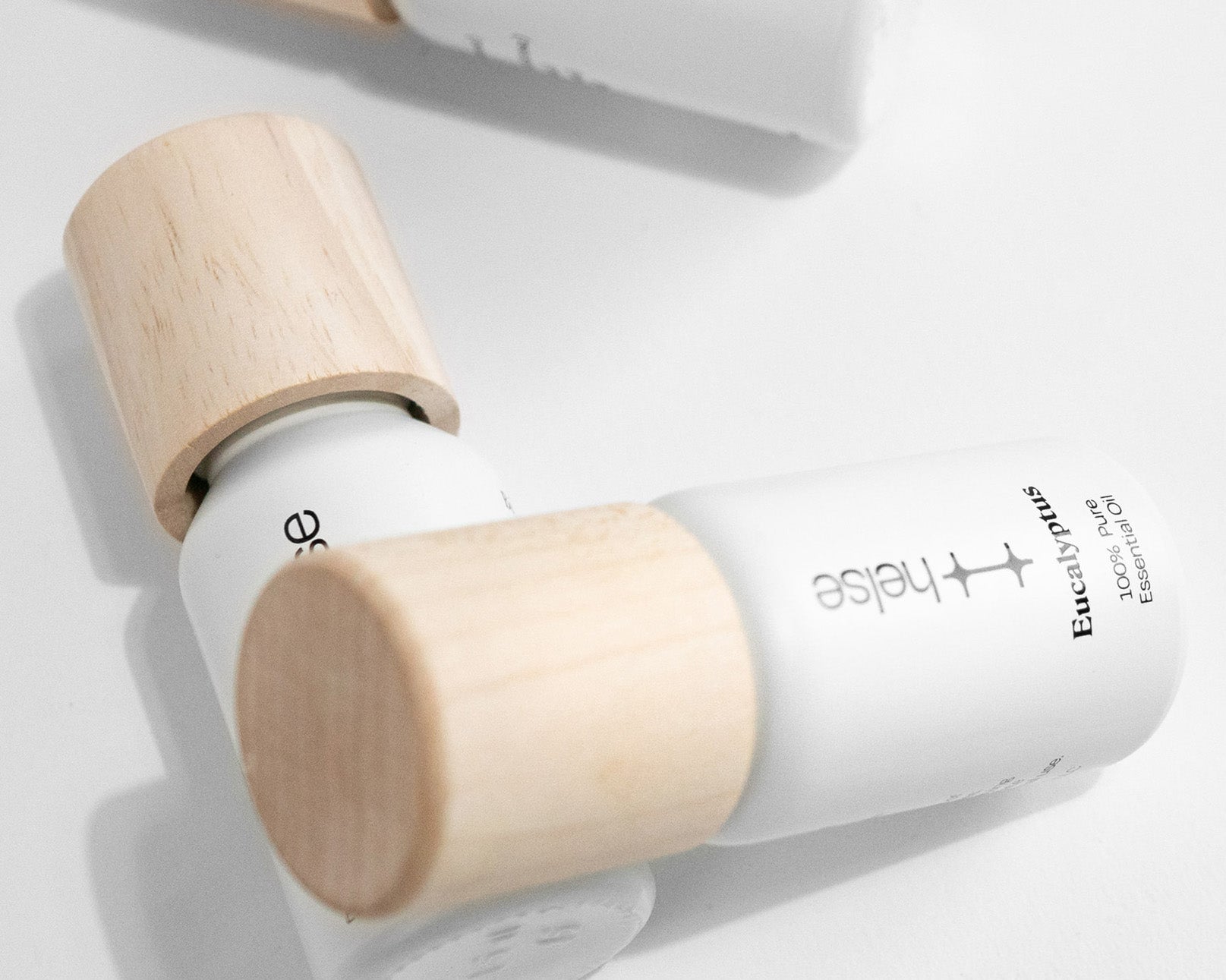 Uses, Applications, and How-to
Aromatherapy
Simply inhale - aromatherapy involves smelling essential oils to improve health. It is a holistic healing treatment that uses natural plant extracts to promote health and well-being. Aromatherapy uses aromatic essential oils medicinally to improve the health of the body, mind, and spirit.
Aromatherapy works using: Diffusers, aromatic spritzers, inhalers, and facial steamers. They are also used often with facial oils, bathing salts, body oils, hot and cold compresses, clay masks, creams, or lotions for massage or topical application, and more.
Here are a few easy and popular ways to enjoy Helse Essential Oils aromatherapy benefits:
Diffuser:
Add 10-15 drops to a diffuser and then turn it on.
Steam:
Add 4-12 drops to a bowl of steaming water, inhale deeply for 5-10 minutes.
Ritual:
Rub a few drops between your palms, breathe deeply into cupped hands.
Topical*
Many people turn to topical uses of essential oils for their skin-healing or pain-relieving. You can apply essential oils to where you have a localized need, or apply them topically to experience them aromatically by putting the oil on places like your palms, wrists, or neck. However, they must be applied properly. Most essential oils require dilution to prevent adverse reactions. You can easily dilute your essential oils by blending a few drops with a carrier oil such as coconut, rosehip, or jojoba oil - they carry the essential oil safely onto your skin and help you spread it over a larger surface area. It's best to test a little bit on a small area and see how your skin responds. Keep fractionated coconut oil on hand to reduce the effects should a reaction occur.
Body:
Apply 1-4 drops to desired area. Dilute with carrier oil (2 tsp) to minimize skin sensitivity.
Face: useful for helping with complexion and beautifying the skin.
Forehead, neck, and temples: a target area for dealing with feelings of tension
Base of the skull: an external option for emotional and mood support
Abdomen: Add 4-6 drops to skin care products.
Chest: a good area to apply for feelings of clear breathing
The soles of the feet: To limit sensitivity, soothe the feet, or for massage. Massaging the feet can stimulate nerve endings and generate whole-body benefits.
Digestion:
Apply 2-3 drops onto stomach to help alleviate upset stomach. Dilute with ~2 tsp carrier oil as desired.
Massage:
Add 6-8 drops to a tsp of carrier oil and massage in.
Beauty:
Add 4-6 drops to skin care products.
Other*
The benefits of essential oils can be delivered and enjoyed in countless ways. Here are few more of our favorites.
Bath:
Add 4-8 drops to a bath or shower. Dilute with carrier oil (2 tsp) to minimize skin sensitivity.
Laundry:
Put 4-10 drops on a dryer ball, let dry, toss in with laundry.
Meditation:
Put a drop on the sides of your neck and wrists before meditating.
Cleaning:
Add a few drops to a spray bottle and use to clean surfaces.
*Each Helse essential oil has different properties and uses, so be sure to check the appropriate product page and label instruction to learn how to use each one.
Note: The potency and potential risks of essential oils require that you use them with care. Do not take essential oils internally.
Certification and Awards

Join Our Mailing List
Subscribe to receive updates, access to exclusive deals, and more — and enjoy 10% off your next order.